These salmon cakes are the perfect snack or meal. They have a high quality, clean protein, veggies, healthy fat and fiber! And they're quick and easy to make ahead and have ready for the week and just delicious.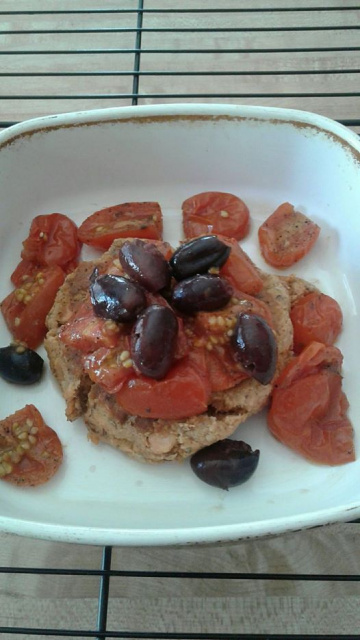 14.75 oz. can of wild Alaska Salmon
1/4 cup coconut flour
2 tablespoons ground flax seeds
1 teaspoon chili powder (I like Ancho)
1 Tablespoon of cumin (very anti-inflammatory!)
2 eggs, beaten
2 tablespoons lemon juice
1 small organic zucchini, grated
1 small organic carrot, grated
1 stalk of organic celery, finely chopped
Coconut or olive oil for cooking
Drain the salmon and break up with a fork in a large bowl. Add veggies, seasonings, flax seeds and coconut flour and combine well. Add eggs and lemon juice and mix well. Using a table spoon scoop out a generous spoonful, form into small patties. Cook in a small amount of healthy oil 3-4 minutes or until golden over medium heat; gently flip and cook the other side.
You can eat them warm or cold as a high protein snack.
*My very favorite way to serve them is to roast some sweet grape tomatoes with olive oil, salt, pepper and oregano (I do this often in the summer when I have so many grape tomatoes from my garden) and then combine them with a good quality Kalamata type olive and spoon some over each burger. It's absolutely delicious!