My friend Cindy sent me a wonderful recipe for a Mediterranean tuna salad but since my husband wouldn't eat this I wanted to play with the original recipe and make myself one-serving. I made it for lunch and loved it so much I had it for dinner. I made the dinner serving the night before and so it sat in the refrigerator overnight and gave the dressing a chance to infuse it completely - it tasted even better!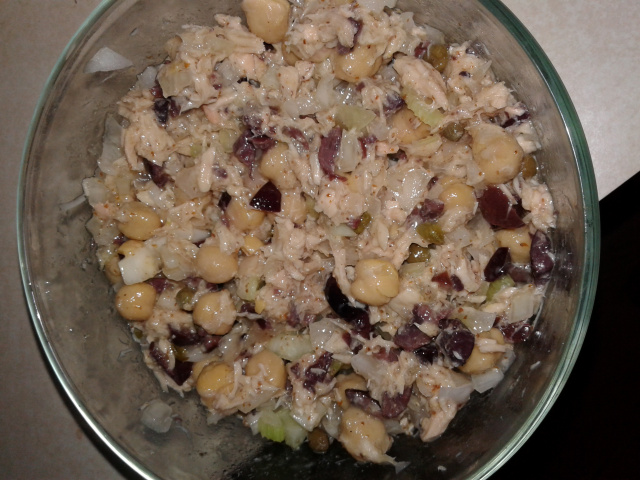 Ann's Mediterranean Salad
1 can solid white tuna, packed in water, drained (I happen to like Bumble Bee but whatever brand you like)
1/4 of an organic onion chopped (or an organic shallot)
1 stalk of organic celery chopped
10 Kalamata pitted olives chopped
1 tsp. capers
Dressing:
(I eye-balled the amounts so these are approximate)
1/8 cup organic coconut or raw apple cider vinegar
1/8 cup extra virgin olive or avocado oil
1 generous tablespoon mustard (I used horseradish mustard)
Combine the tuna, onion, celery, olives and capers and mix well. Combine all the dressing ingredients and mix together thoroughly with a small whisk or fork until completely combined and creamy.
Pour over tuna and mix well. Eat immediately or refrigerate and eat later. Either way it's delicious.
You can eat it by itself, serve on a bed of lettuce or even in a gluten free or whole grain wrap or pita.
*You can add whatever you'd like to this - like chickpeas or any other beans you especially like or flat leaf parsley or chopped artichoke hearts. Be creative!